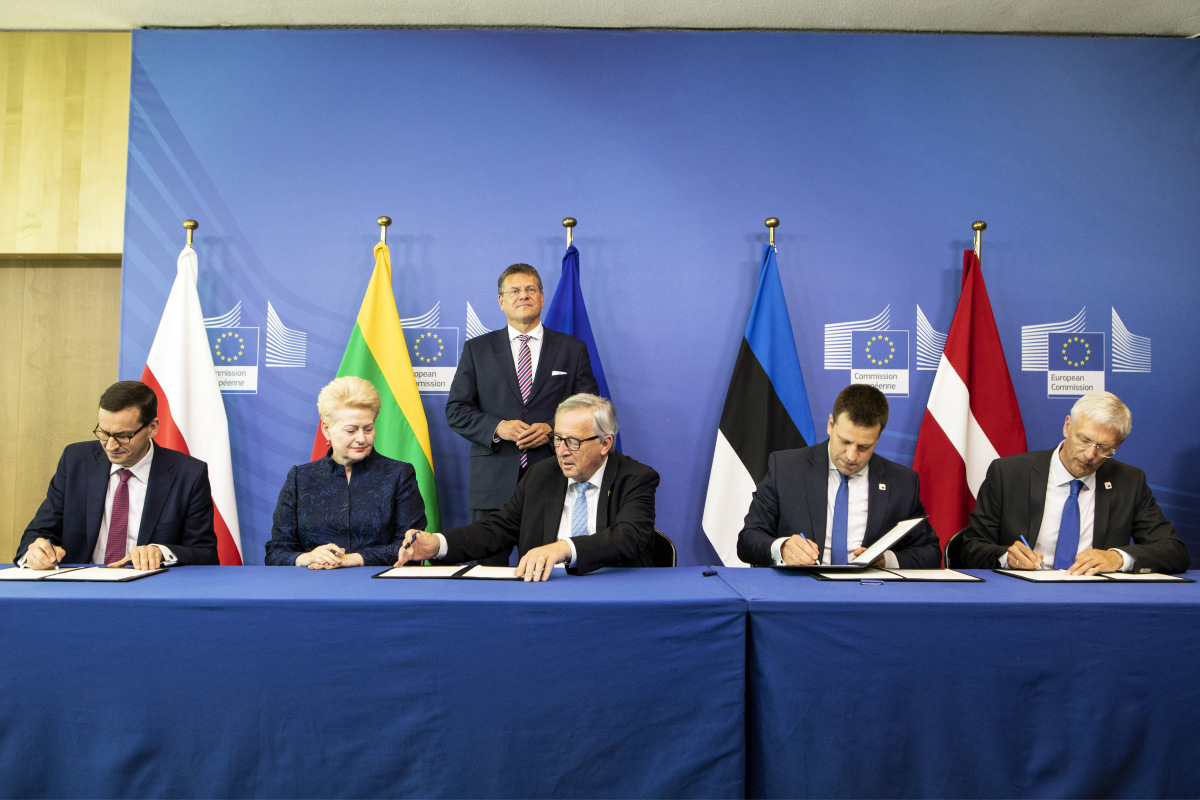 PM Kariņš signs a political roadmap for integrating the Baltic states' electric power system to the EU network
News
On Thursday, 20 June, in Brussels, Latvian Prime Minister Krišjānis Kariņš, together with the Prime Ministers of Lithuania, Estonia and Poland, as well as the President of the European Commission Jean-Claude Juncker and the Vice-President of the European Commission for Energy Maroš Šefčovič, signed a political roadmap for integrating the electric power systems of the Baltic states to the European network.
"Having signed this political roadmap today, we become even more involved in our shared European project. Integration of the electric power systems of the Baltic states in the EU network brings a few important benefits: it will increase the energy security of our region, will strengthen our position on the EU energy market, and will create the conditions for the faster growth of our economies," K. Kariņš said.
The agreement for the integration of the electric power systems of the Baltic states into the network of Continental Europe took effect on 27 May this year. In order to continue the progress towards completing the synchronisation project by 2025, the European Commission, in cooperation with the Baltic states and Poland, developed a roadmap for further political implementation of the synchronisation project.
The parties to this roadmap undertake to uphold their political commitment and support, to enable unimpeded synchronisation of the electric power networks of the Baltic states with those of Europe via Poland no later than by 2025. Simultaneously with the roadmap, the transmission system operators of the Baltic states and Poland are given the mandate to take all the measures necessary for successful synchronisation with the European networks and a corresponding de-synchronisation with those of Russia and Belarus.
The roadmap also implies that the European Commission and the Baltic states will continue working on the procedure necessary to complete the negotiations with Russia and Belarus, in order to ensure that de-synchronisation with these countries' systems is carried out without creating any additional risks for those systems.
As reported, the Baltic states have made a political decision to disconnect from the so-called BRELL energy circuit, which connects Latvia, Lithuania and Estonia with Belarus and Russia. Historically, the electric power systems of Latvia and other Baltic states were designed as part of the electric power system of the former Soviet Union, which is why after these countries regained their independence in 1991, they still had their historical power transmission infrastructure, continuing cooperation synchronously with Russia and Belarus.